Lo spazio, le stelle, la luna e i pianeti mi hanno sempre affascinato. Ho sempre guardato con interesse alle missioni spaziali, NASA e tutto quello che ad essa è collegato: ricordo con quanta attenzione avevo seguito le missioni Mars Exploration Rover, i due straordinari rover che hanno funzionato per mesi e mesi oltre il tempo previsto.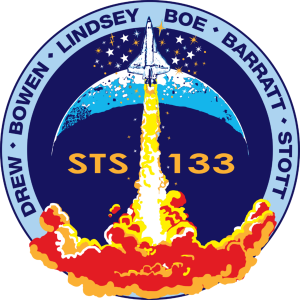 Di pochi minuti fa la notizia: concludendo la storica terzultima missione STS (la STS-133) il Discovery si è fermato in fondo alla pista del Kennedy Space Center. Lo Space Shuttle Discovery ha volato per 39 missioni in 27 anni di servizio, per un totale di 148 milioni di miglia. Su YouTube è disponibile il video dell'ultimo, emozionante atterraggio.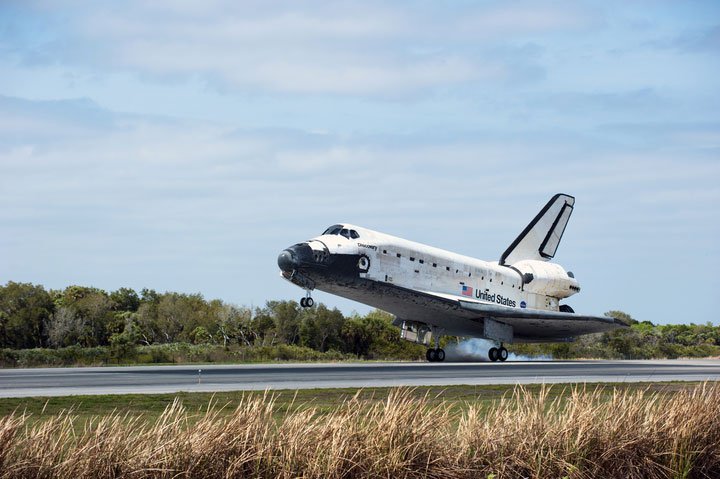 Il comandante Lindsey ha annunciato con queste parole la fine della missione: "And Houston, Discovery. For the final time, wheelstop.", mentre Josh Byerly, commentatore NASA: "And to the ship that has led the way time and time again, we say farewell, Discovery.".
Nel momento in cui scrivo continua la diretta su NASA TV: i veicoli di supporto hanno appena raggiunto lo shuttle. Ho seguito il tutto in diretta su Twitter (@NASAKennedy) e sullo "Shuttle Landing Blog" ufficiale NASA. Vale la pena di riportare uno screenshot dei tweet che rimarranno nella storia: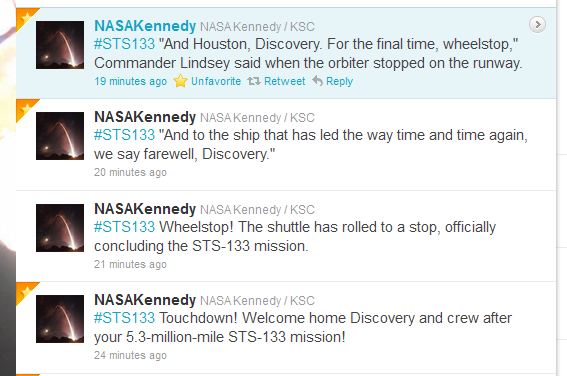 Per concludere, una foto dell'ultimo equipaggio del Discovery davanti alla navetta: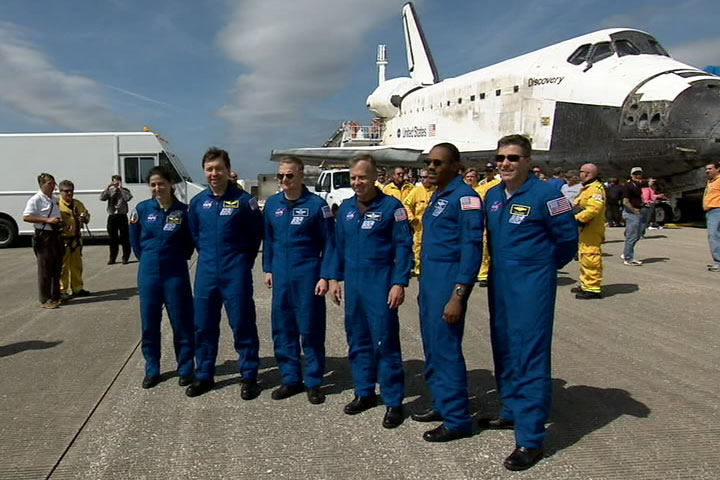 L'ultima missione per lo shuttle Endeavour sarà la STS-134 (il lancio è in programma per il 19 Aprile). L'Atlantis volerà invece per la sua seconda ultima volta: il suo ultimo volo previsto era per la STS-132, ma poi è stata finanziata e approvata una nuova missione, STS-135. Sarà quindi l'Atlantis e non l'Endeavour come inizialmente previsto a chiudere quella che ormai è definita "The Space Shuttle Era".
Addio Discovery.