Customer experience and discrimination on Gumtree
Customer experience and discrimination on Gumtree
In a world where Customer Experience is key, Gumtree, the leading online classifieds website in England, is telling me to f*ck off. Something that I will do indeed as their TOS are crystal clear (they can restrict access with no explanation due), but not without telling the story first.
It all started this morning: after having signed up using my 10 years old Google account and my real name (which, even if I'm not Donald Trump, should have a decent reputation and trust online) I posted an AD for my HP DL320e (and even paid to have it featured). Location was my real postcode (which you can verify in public records) and I paid with an UK credit card (just another way for them to verify my identity).
Good experience up to that point: nice and easy UI, clean workflow. The AD went into moderation queue, but after a while it moved straight into the "Removed" state: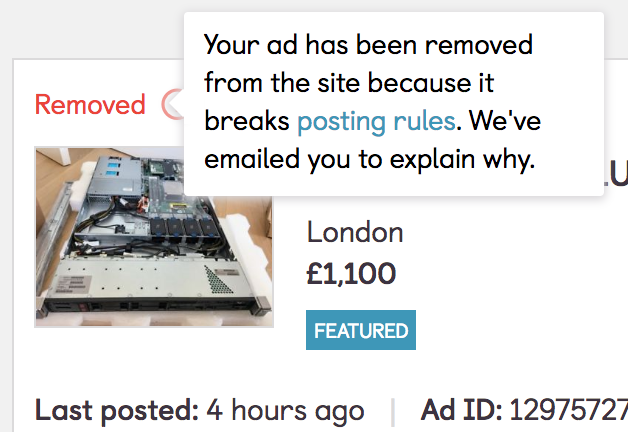 Allegedly, I've broken some posting rules and should have expected an email with some explanations. Except the email never came in (no, it's not my spam filter, I got other emails from them) and the link to the posting rules leads to a blank page (there is a menu on the left, but every single item leads to a blank page).
I asked for support on Twitter, genuinely thinking it should have been a mistake of some automated fraud prevention system (a very cheap one, probably):
Nice start. My first ad on @Gumtree (#1297572744) was removed because it breaks an unspecified rule. No additional details, no emails to explain. @HelpMeGumtree

— Giorgio Bonfiglio (@g_bonfiglio) May 5, 2018
The only thing I managed to get back was this response via DM, which classifies as the worst and unnecessarily rude answer I ever got from someone's customer care department: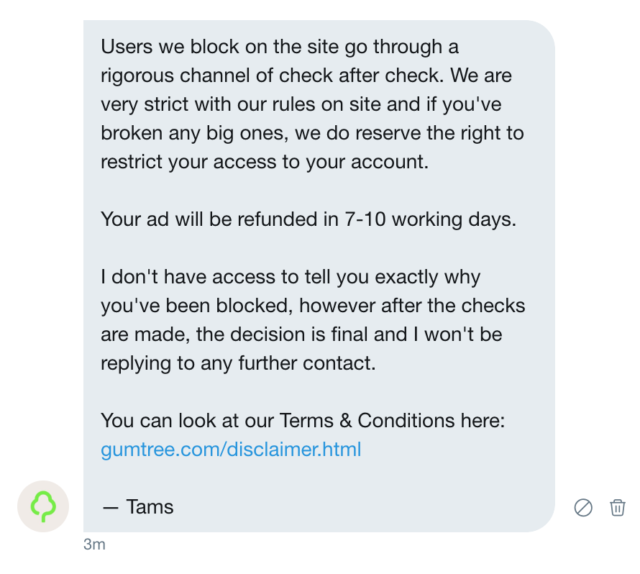 I tried to appeal by sending an email to their support department, hoping for a deeper review and consideration.
And it happened: someone came back to me apologising and explaining that my AD and account were absolutely fine, no rule had been broken and that the block was the result of a mistake. It would have been lifted immediately.
The end of an odyssey, you would think. Well, no: two hours later my account got blocked again, and this email landed in my mailbox: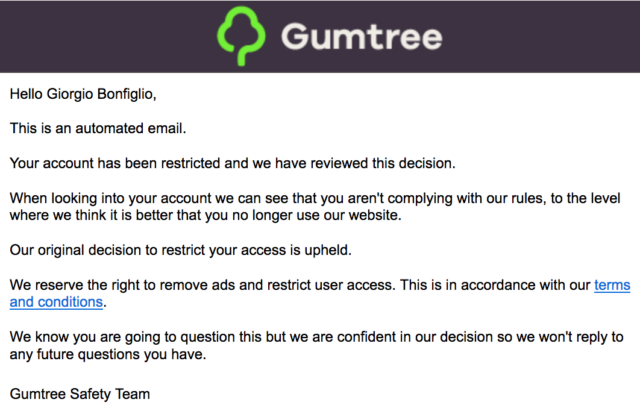 In short, I'm now permanently banned. They won't tell me why and won't answer any further query on the matter. I would love to dig and figure out what's wrong, but I'm in front of a brick wall.
Let me make a couple of assumptions: I've been blocked before having published my first AD, so I can't have been reported by other users. The only things Gumtree knows about me are:
My full name
My email address
Where I live
My Credit Card details
We already have a word for when you are denied something based on those four parameters: discrimination – and this is what's happening here.
If anybody from Gumtree wants to get in touch and explain feel free, you have my contact details.