Volunia: updates (for the last time…)
Volunia: updates (for the last time…)
Some readers are asking me on Facebook and via email to post some updates about Volunia, the search engine i've already analyzed and blogged about.
So, let's try to write something. But, before starting, I have to say this: the point is that… there are no updates. It's so simple.
As you know, I've been monitoring the growth of the search index for a while, but i've stopped checking because it simply was not growing. This is the graph: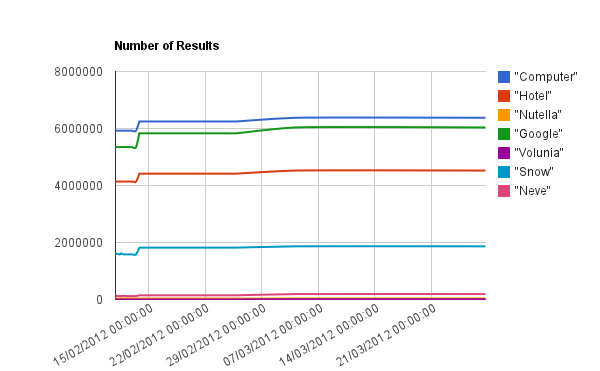 The only maybe-interesting news is that they have launched a new feedback system (basically, a Q&A CMS), probably due to the need of a more efficient system to manage users feedbacks (with the old "closed" system, i'd bet, they were receiving tons of duplicated feedbacks without any way to rank and clean them).
I've tried to speak about good and new features of Volunia, but right now, 2 months after its pre-launch, it looks more as a failure than a revolution: the online rumors about this search engine are now silent and the media interest in it has finished.
Being the interest in it is almost dead, I don't think I will blog again about Volunia. Do you think this "revolutionary" search engine is still alive?
From my point of view, i'd just consider it as "dead" and focus on other emerging engines.
Giorgio