No, Zuckerberg NON ha detto che WhatsApp e Facebook sono a rischio
No, Zuckerberg NON ha detto che WhatsApp e Facebook sono a rischio
Oggi mi è passata davanti agli occhi una notizia del Corriere secondo la quale Zuckerberg avrebbe "lanciato l'allarme" perchè "i server" di WhatsApp e Facebook "rischiano di fondersi" se il traffico continua a crescere a causa del Coronavirus/COVID-19.
Quindi, almeno pare, saremmo a rischio catastrofe (un'altra). Questo il titolo: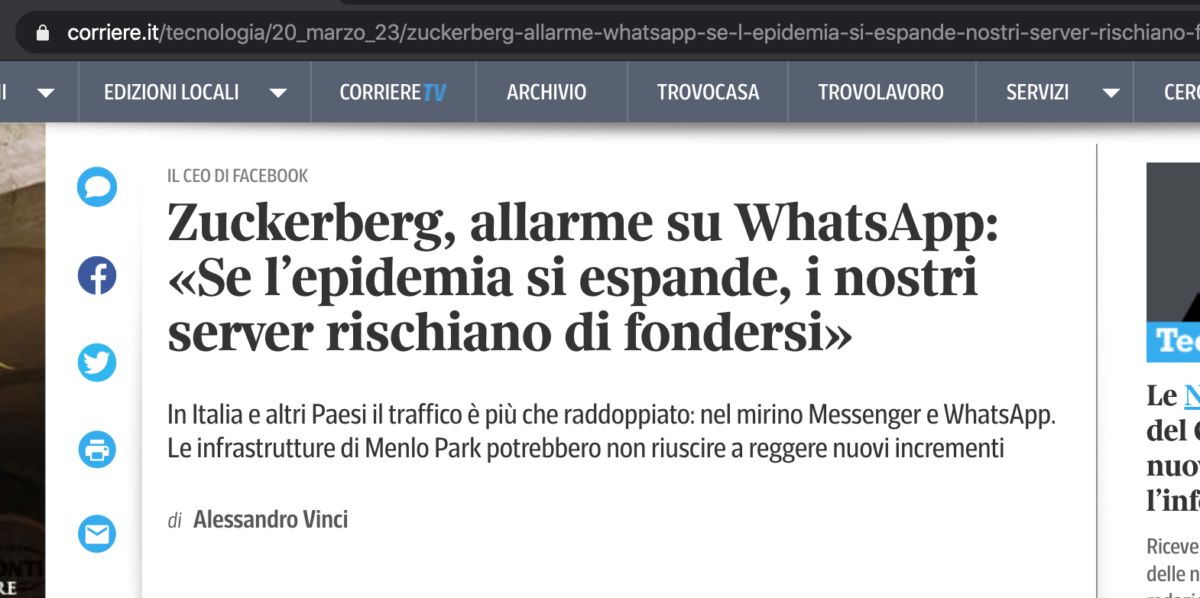 La notizia è stata subito ripresa da molti altri, come Il Giornale: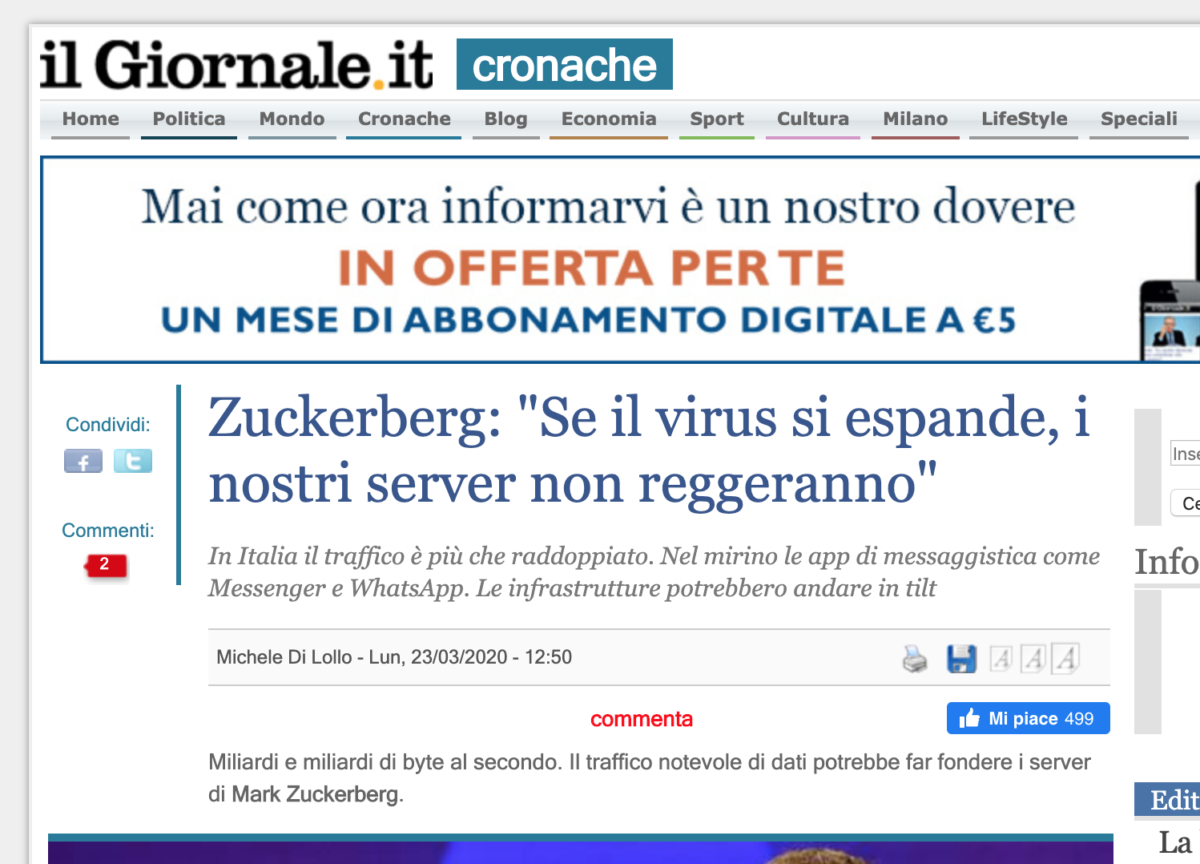 E Adnkronos: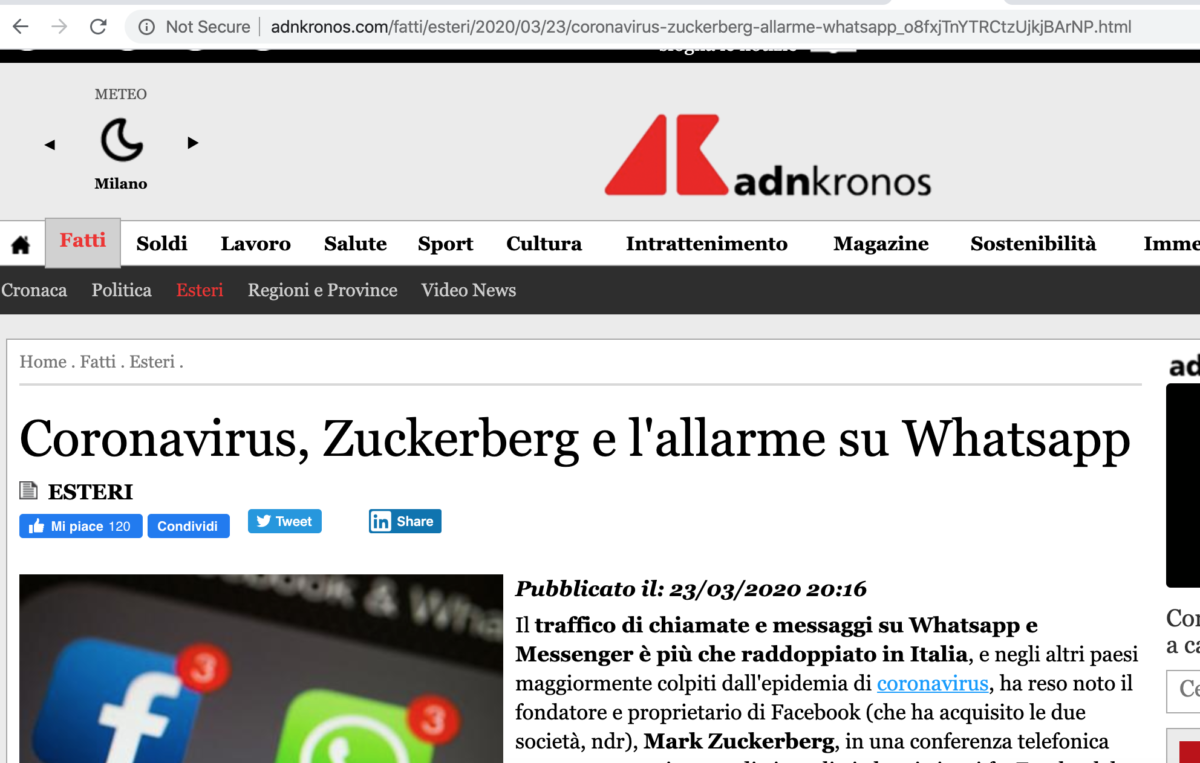 Hardware Upgrade rilancia il grido d'aiuto con toni ancora più disperati: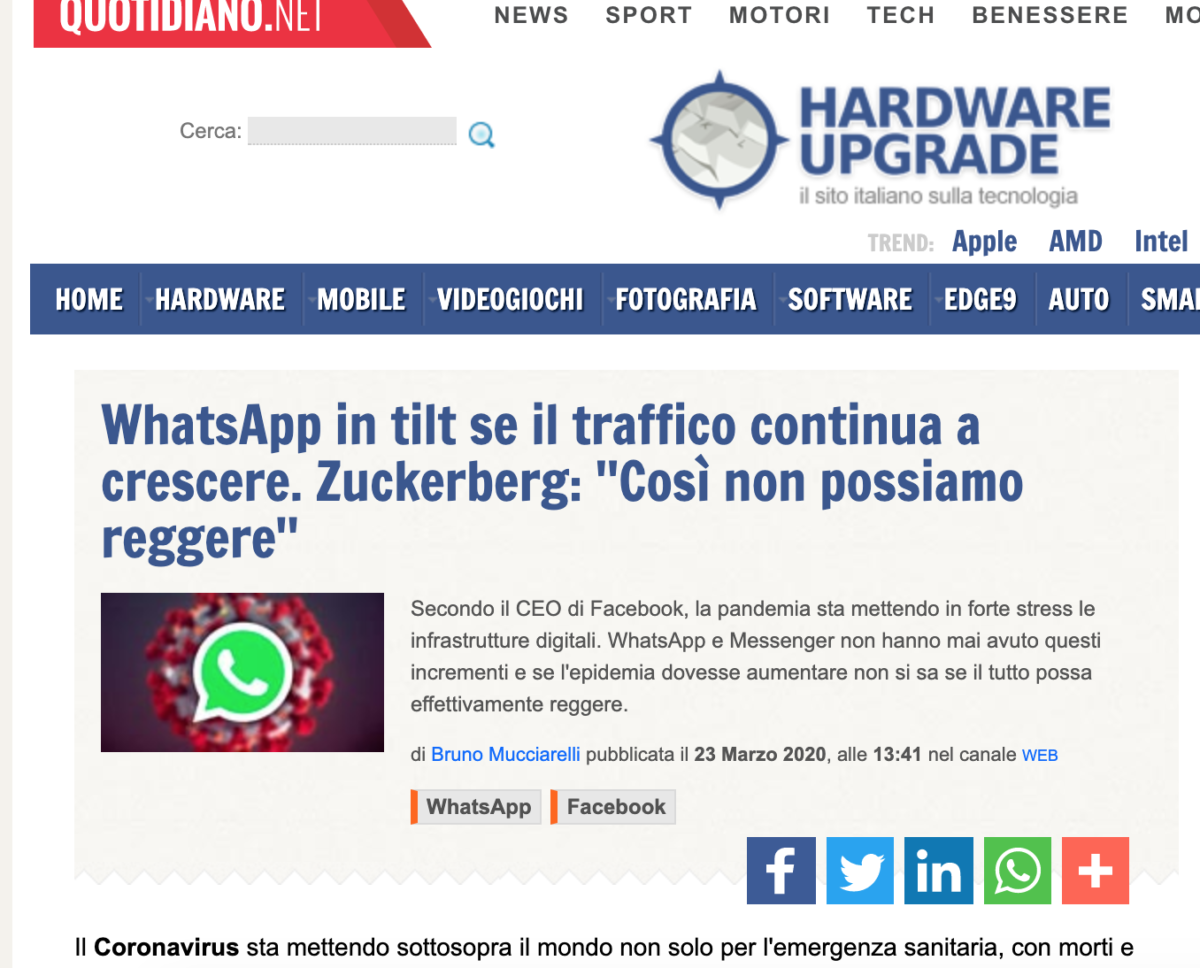 Secondo l'articolo de Il Corriere, questo "allarme" senza precedenti sarebbe stato lanciato da Zuck in una conferenza stampa Mercoledì scorso:

…non fosse che la citazione è completamente inventata, che Zuckerberg non ha lanciato nessun allarme e che il contenuto del suo intervento è stato completamente ribaltato.
Cosa ha detto, quindi, veramente, Zuck? Molto semplicemente, ha affermato che i livelli di traffico sono altissimi (e lo sapevamo già), più del normale picco di capodanno, e che in Facebook si stanno impegnando per assicurarsi che l'infrastruttura sia in grado di soddisfare le necessità degli utenti.
Nel testo originale, che riposto qui sotto, non c'è nessun accenno a possibili problemi, nessun grido di allarme, nessuna richiesta di aiuto:
So the normal spike for us is New Years Eve, right, where basically everyone at the same time just wants to message everyone and takes a selfie and sends to their family wherever they are, and to wish them a Happy New Year. And we are (inaudible) basis well beyond what that spike is, on New Years.

And just making sure that we can manage that is the challenge that we're trying to make sure that we can stay in front of because of course right now this isn't a massive outbreak in the majority of courtiers around the world yet, but it is – if it gets there then we really need to make sure we're on top of this from an infrastructure perspective to make sure that things don't melt down, and we can continue to provide the level of service that people need in a time like this.

Il testo integrale dell'intervista lo trovate qui.
Un ennesimo facepalm per la stampa italiana, a questo giro con tanto di citazioni inventate. Ironia della sorte? Tutto nasce da una conferenza stampa in cui per 2/3 del tempo Zuckerberg ha parlato di fake news e di quanto siano pericolose.
…verrebbe quasi da pensare sia stato fatto in malafede e a scopo clickbait.